Looking for some excitement and cool water? Put on your swimsuit or perhaps a wetsuit, because visiting the Sénonais also means experiencing the thrills of water-skiing, sailing or paddling on the river that flows through the region from south to north. Not forgetting THE swimming spot not to be missed: Plage du Saucil in Villeneuve-sur-Yonne! the Sénonais is a prime destination for a river cruise by houseboat.
Boarding to Villeneuve-Sur-Yonne – Beach!
When you are far from the sea, swimming in the river, is the best option. In Villeneuve-sur-Yonne, just a few steps upriver from the town, this is made possible at Saucil Beach to the delight of visiting and local bathers alike. It is one of few supervised bathing areas in the Yonne département. Now is the time to enjoy it!
You are a navigator ? Board the Flipper Nautic boat with Laurent Carpentier, your pilot and navigate the Yonne for one hour or more… Besides the Valley of the Yonne, with its landscapes and fauna (you may encounter boars or deers!), Laurent tells you the history of the river. And he knows quite a lot !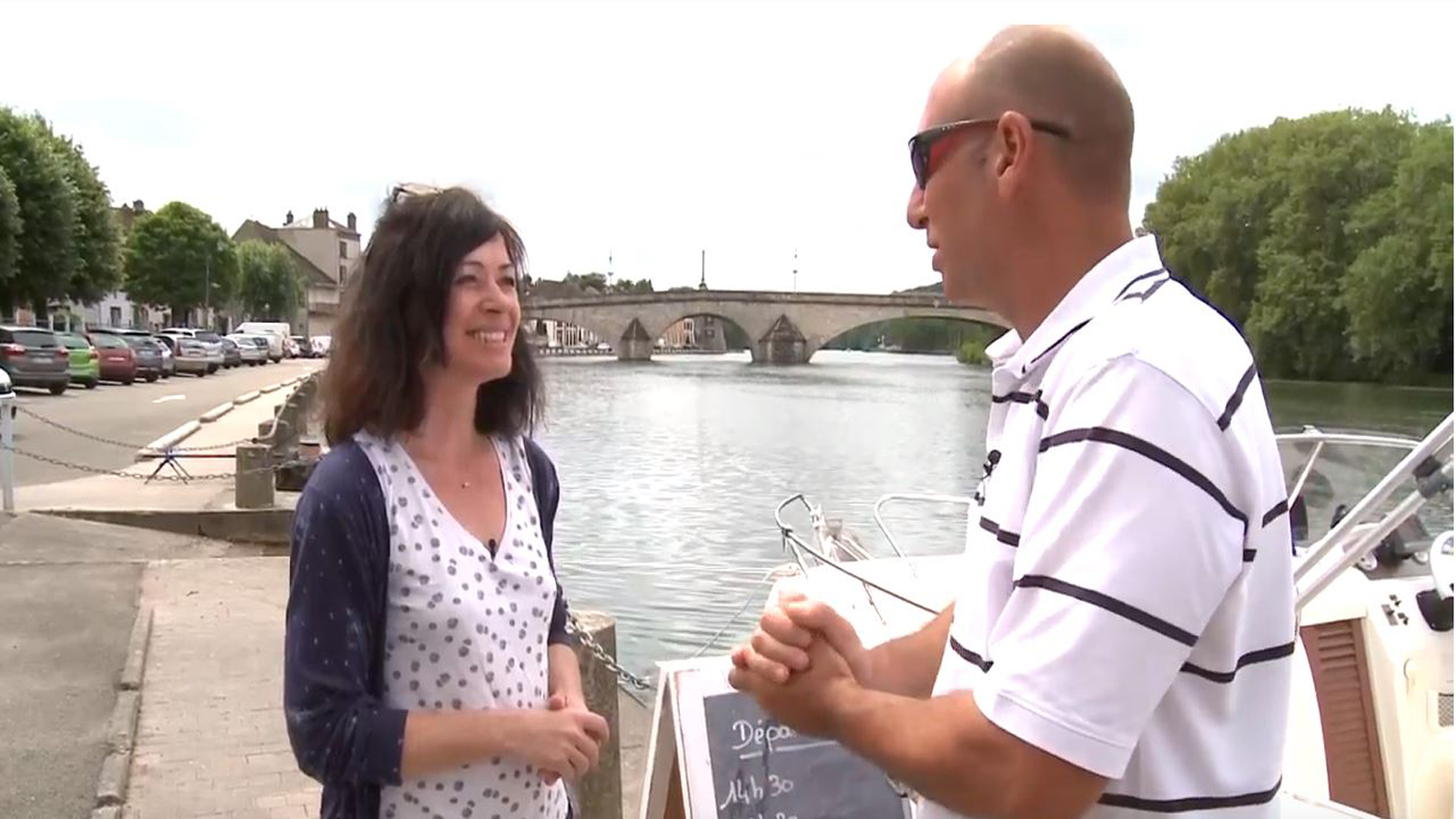 From classic to original water activities !
Discover Sens' Yonne Island, with its Saint Maurice Church, old fishermen's houses, the brand new gastronomic restaurant at the tip of the island and its slightly more rugged banks downriver, by… canoe with Sens Canoe-Kayak Club ! In sommer, the club even organises special evening outings. In this very setting, it also offers you to discover paddleboarding. Your mission, should you accept it, is to stand on a board using oars to steer and move forward.
More exhilarating, but perhaps less strenuous, you can also go water skiing in Sens, through the Sénonais Water Skiing Club. Stand straight, legs stretched out. Whoosh! !
In summer, there is wind in the sails in Villeneuve Villeneuve and they are unfurled on the river, ready to show you how to sail. Here, the local sailing club is very active. The experience will ensure you some wonderful thrills ! Exhilarated by the wind, rudder in one hand and sail rope in the other, brace yourself!
Sail away on a barge !
Two nautical stops are at your disposal, one in Sens, the other in Villeneuve-sur-Yonne.
In Sens, you can already take advantage of the very pretty setting offered by the Lucien Cornet bridge, Saint Maurice Church and Yonne Island. It's a very popular spot for photos. From there, boat trippers are just a stone's throw from the town centre, its rich heritage waiting to be visited. You can follow part of the Brennus circuit that goes up the Grande Rue.
In Villeneuve-sur-Yonne, you will be instantly attracted by the quays and banks of the Yonne, from where you can enjoy a a panoramic view over the river and town, nicely surrounding the tall silhouette of its Notre Dame church.